Artificial Intelligence and Emotional Intelligence
Artificial Intelligence is a game changer. It is not new, but recent developments have vastly expanded its presence in our lives. It generates audio, visual, and written word, and is widely, and increasingly,  used by all the big tech companies, as it is fast and can replace and facilitate many human actions.
As a major new player, how will we as humans use these new tools for our benefit?
Emotional Intelligence
In particular, will it challenge our human abilities to think for ourselves, experience our emotions and feeling's and will out actions be driven by artificial elements -such as robots- or will we still retain control via the use of our own Emotional Intelligence?
What is Artificial Intelligence?
Artificial Intelligence (AI) is fast emerging as transformative force that mimics our thinking. AI and it's various tools are being created to reshape how we work, interact, and provide services. Tools have already been designed to write journalistic articles and even pass the law exam. Many people just copy out and follow AI suggestions – as if they are necessarily the truth. Yet in reality, AI is still under development,  and still learning from it's plentiful mistakes.
Our judgement about what to accept is still important, but it does introduce a tempting easier path to take when making decisions. So far AI has not replicated human feelings, but has made great advances in providing factual data that gets translated in "thinking".
Dr. Ann Polya is examining the complex relationship between AI and human behavior in her forthcoming book, which will delve into the intricate interplay between these three components.
Strategic Emotional Intelligence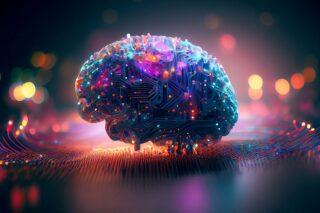 Strategic use of Emotional Intelligence is critical to make balanced decisions. It uses our emotional and logical processes to take actions. This enables us to take back control over our thinking and our feelings, so that we can direct our actions. Indeed strong Emotional Intelligence is vital for our success.
At present, our own Emotional Intelligence has a competitive edge over robots and other AI tools, as they have not yet managed to factor in the importance of our emotions and feelings into their algorithms.
Influence of AI

Artificial Intelligence is already with us and it will become an even greater force. In Dr Polya's last book, "Become Better", she examined how we can control our thinking and feelings, so that we adapt to meet new challenges. This is a new challenge that will require similar human vigilance so that we use it to our advantage.
AI uses numerous tools, such as including ChatGPT, that can create texts, audio and visual material by transposing vast quantities of data by the use of algorithms that mimic our Brains' neural networks. Its advantages are its speed, storage capacity, ability to gradually amend its programs due to inaccuracies. It is already used in smartphones, and virtual assistants such as Alexa and Siri, and is being more widely used in business.
The human mind has been doing these data gathering and storing functions in our memory for centuries- unaided by artificial support systems. The big unknown is whether, as many proponents, claim whether AI augments human behavior or will it begin to replace our human functions?
 Dr. Ann Polya is a trained psychotherapist and the author of four books.
© Dr Ann Polya- 2023